Communities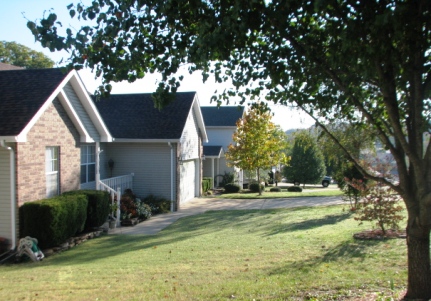 There are many different communities and neighborhoods surrounding Branson MO. Some are right in the center of it all, others are in neighboring towns within a 30 minute drive. If you're new to the area, it's hard to find some of these subdivisions since most of them tucked away in the hillsides or down long points of the lake. Some neighborhoods are custom made for the 55 and over age group, with a gated community and offering amenities like a golf course & club house. Others are for families, near schools and convenient for working folks. Of course, there are many retirees and families alike that want to be on Table Rock Lake and just enjoy a day out on the boat whenever they want. To be right on the lake most home buyers find real estate in the neighboring towns of Stone County.
There are several neighborhoods in Branson West and Kimberling City that offer the close proximity of the water. Some of these areas have more second homes and retirees, others are more for full time residence, but in these areas it's a mix of both in most of the communities there. Homes in this area are located down DD Hwy, Joe Bald Rd., and OO Hwy.
In Ridgedale near Big Cedar Resort, there are cabins for sale, and also very high end homes, not as many subdivisions, but you'll find a nice mix of homes in different prices in this area of Table Rock. Within a short drive south you'll find it is convenient just south a few miles of everything you'll need, and it takes about 20 minutes. This area is called "Long Creek" and it's perfect for water sports with its calm water.
Hollister is known for being "right across the bridge" and is a historical Old English town. They have their own school district here, and it's also a great place for families. Some older homes are along the banks of Taneycomo Lake and newer homes have been built with a close location of Hwy 65. Well established neighborhoods as well as newer homes surround this area, and there are plenty of homes to choose from.
The county seat of Taney is located in Forsyth, MO about 20 minutes east. It's a busy little town, that may remind you of Mayberry! It's a tight knit community with homes available along Taneycomo with beautiful views. There are many older homes in quiet neighborhoods, and it's a favorite spot for fishermen close to Bull Shoals Lake as well.
Here are a few neighborhoods and communities you may want to explore.
Horizon Hills- One of the most popular neighborhoods for families, within a 10 minute drive from shopping and schools...
Emory Creek Ranch- Up and coming community, homes with 3 car garages, new construction. Close and convienient...
Cozy Cove- Condos perfect for retirees, but for any age group, very affordable and gated with a pool, right in the middle of town, close to the Landing....
Riverside Estates-Along Taneycomo, this neighborhood is very close to College of the Ozarks and is a favorite for retirees and fishermen.
Twin Island Estates- One of the largest lake side neighborhoods, west on Hwy 86 to JJ Hwy. Beautiful homes with slips available, pool and clubhouse.